---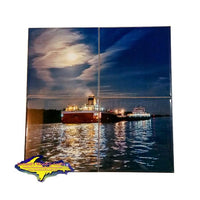 Great Lakes Freighter Roger Blough Coaster Puzzle Set. New freighter gifts for all boat lovers. Fun Great Lakes shipping collectibles on vivid photo tiles. Fine art comes in all sizes, and these coaster sets will be a big hit with family and friends!  With so many to choose from, there is something for everyone! Image is hi-resolution with full cork backings. 
Note:
sizes are measured by tile size so they will need a little extra room to hang as a triangle.
  Have fun collecting these Great Lakes freighters puzzles!